Circle of Financial Health
Most people believe that the job of a Financial Planner is to help them invest their money. In fact, there are three equally important phases of Future Legacy's financial planning process. To better understand them, Marika has developed the "Circle of Financial Health" for Future Legacy's proprietary use.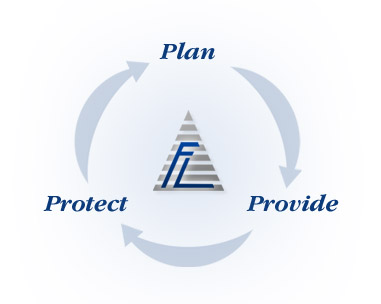 To have a well-rounded financial plan, all three phases - Planning, in which we deal with family situations and individual needs; Providing, where we invest money and evaluate performance; and Protecting, where we handle the tax and insurance side of your portfolio - must be taken into consideration.

Failure in any phase can compromise the entire process and tip it over like a three-legged stool when one leg breaks.

Each phase is dynamic and needs vigilance to manage. Family situations are ever evolving, investment markets fluctuate, tax laws are constantly changing

Our process involves the monitoring and adjusting each phase in an ever revolving manner. Your case is always in front of us; it is not gathering dust on our shelf.